DEAR JULIET AWARD 2021
Verona – Italy, Saturday 13th Februry 2021, 18 pm
Event online
DEAR JULIET: LOVE LETTERS IN THE TIME-SPACE
Kiki, Angela e Nolwenn will receive the award to the most beautiful letters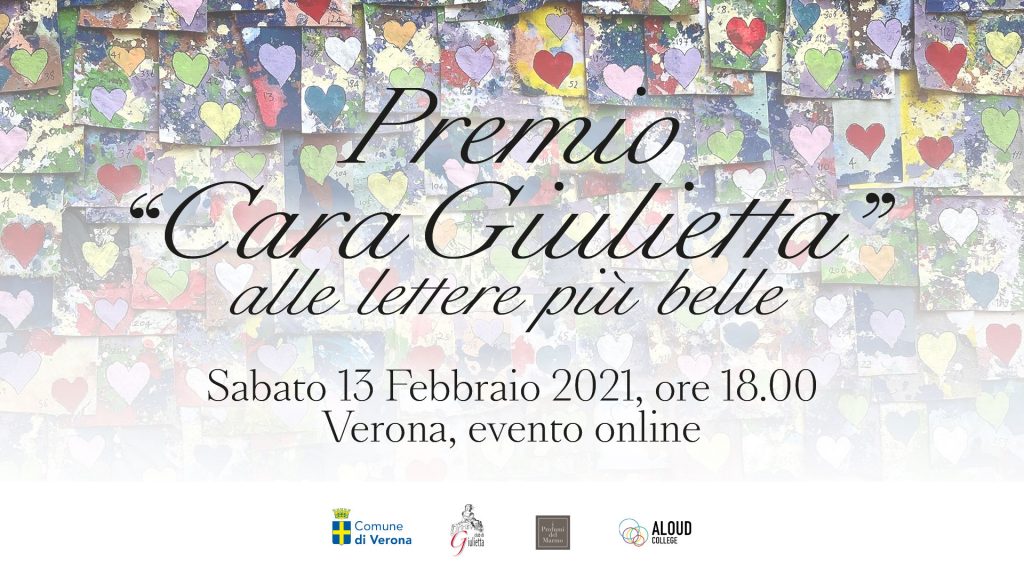 "Dear Juliet" awards the best letters to Juliet chosen by the Juliet Club among the thousands from all over the world to the shakespearian heroine. The event is organized by the Juliet Club together with the City of Verona. This XXIX edition is accompanied by the live performance of the songs by Pietro Franzosi, Davide Rosa e Massimo Torresin of Higher National Diploma in Music of Aloud College.
In this moment of forced distance, the letters and compositions dedicated to them are the seal of the most romantic of the means of communication to unite people over obstacles and space-time divisions. The event, broadcasted online Saturday 13th February at 6 pm from the Musical Box studios with the direction and set-up by Aloud, is presented by Giovanna Tamassia and Lucia Corona Piu, with the reading by Juliet's Secretaries who have been dealing with the activity of receiving, replying and cataloging thousands of letters.
The winners:
Angela Provenzano, 21 anni, studentessa di Economia e Finanza a Palermo
Kiki Stanton, 18 anni, Michigan, studia recitazione e scrive romanzi
Nolwenn ha 32 anni e vive a Marsiglia
he winners are receiving the exclusive perfume Calacatta by "I Profumi del Marmo", in a precious bottle with the engraving of the heart "A cuore aperto", the artwork of Piera Legnaghi, in partnership with the Association Le Donne del Marmo.
Official CS: Official-News_Dear-Juliet-Award-2021-ENG