The winning letters have  been awarded in Verona at Juliet House
The Juliet's secretaries, who collect and answer the thousands of letters to Juliet, chose the most beautiful letters to be awarded on Valentine's Day.  The winners, Christoph Hartwig, Monica Gomez Delgado e Gisele Fialho Mota arrived from Germany, Spain and Brasil to receive the prize dedicated to love lettters.
Dear Juliet Prize is organized by the Juliet Club under the patronage of the City of Verona and Regione Veneto and is supported by Amia . The winners received the beautiful pen by Pelikan M205 BLUE MARBLED and the Amarone wine of Cantina Gerardo Cesari, partner of Juliet Club. Hospitality partners 'Hotel Due Torri and Casa di Angela. Thanks to Simonetta Chesini who presented the event with the touching reading of RossanaValier e Ermanno Regattieri and the young actors of Scuola del Teatro Nuovo.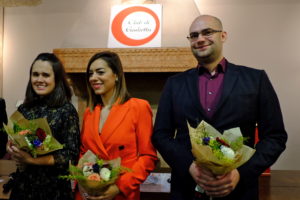 The  winning letters:
Buonasera Juliet,
I exactly don´t know why I am writing down this letter; perhaps I need to tell the story to a complete stranger, someone who would not feel compassion on me or would judge me. Well, you are not exactly a complete stranger… Who does not know Juliet? The main character of the most "beautiful" love story ever told. And I apologise for my choice of inverted commas, but someone should have told that Shakespeare that there were a million better endings to choose from for his story. I never quite understood the thing about soul mates or dying for love. I am rather the type who fights the dragon instead of waiting for some knight to save her.  Anyway, my apologies for beating around the bush; getting distracted is another of my countless flaws.
Let me please first introduce myself: my name is Mónica, 32 year-old woman, graduated in business administration and management and for 7 years I have had a job that doesn't make me happy. I am what is colloquially known as an operator, that voice on the other side of the phone who does not seem to be a person, but it turns out she is one, and as such, she has good days and bad days, amen to her own problems.
But this story isn't about dramatizing, I consider myself a tremendously lucky person. I have a wonderful family who loves me, joyful parents who love one another madly, respect each other and take care one of the other; a sister to whom I love and hate in equal proportions because she is taller and prettier than I am – I ended up being the funny and intelligent one in my family, which is fair enough –   and I live alone with my little dog Bimba who goes everywhere I go and gives me the love that I need, in addition to my friends who deserved to be included in that earlier group named family.
I will start by saying that I actually expected this year 2017 to be a great year, and forgive the expression, but I have to say that it actually is: a great shitty year. One of those years when you frequently wonder if something could go worse, and it turns out that it can. Life takes that as a challenge, instead of as a rhetorical question, and answers back with another fucked-up situation. I'd rather think that whatever God or Goddess, cosmic energies from outer space, karma or whatever that has the control up there conceals something big for me or at least something good. I want to believe that life consists of cycles and after this one, something much better awaits me.
I usually have a smile on my face all the time; however I admit that sometimes the road gets rough and it is hard for me to keep up an optimistic attitude, so characteristic of me. I often compare it to a scar, one of those that seem to be healed, but suddenly it starts aching as the weather changes, like a prick that reminds you the pain is there.
Yes, when one has a bad day, the feelings that you thought were buried for years rise to the surface, and slap your face, a mess. At the moment, I should be a married woman. Indeed, I should be the mistress of the house with a beautiful wedding album and a gorgeous brand new husband. However, if I think about it, I never considered myself a brave person; I don't know where I took the strengths from to break up with him 6 months prior to the wedding.  Yes, me the most in love and faithful woman on the planet, the one who had put up with an intolerable selfish man who didn't even love me a little bit. I was a complete fool who was contented just by seating next to him while he paid attention to a million more important things than me. And I could just list a lot more reasons why he didn't even love me a little bit, as I said before. Those kinds of things that would outrage you as a woman and at the same time would continuously come up to your mind to make you wonder why I let it be. Well, in the end we women know why we do it. Because heart is sometimes too blind to see the truth; because we frequently confuse love with a struggle, justified if it is for love though, and in the mean time we break our back on a struggle that was long lost. And in the end, my friend Julieta, love does have a limit and it's called dignity. And yes, I broke up with a person who I loved deeply, and I made the most important decision of my life, because if I went on like that I knew that I would be miserable. A decision that made me cry my heart out and caused me a thousand sleepless nights. And he, conversely, didn't even change his countenance, nor uttered a word. He gave me the answer I needed. I kept the flat that we shared and, of course, I kept my little hairy sweetheart. And I made a few stupid mistakes that made me realise even more how much I needed to be alone.
Since then, I drink a cup of wine every day; I read a lot and take a look at myself in the mirror more often. I cry in earnest once a month like the song by Shakira, I talk to myself out loud a lot, never do something that I don't want to please anybody, and I mouth the lyrics of a song with the mop stick every other day. I feel the music, dance in the car, hug my dog a lot and eat what I feel like eating. And yes, I do feel stronger as if I was carrying a light luggage. I also don't make a drama out of this because I know this is of no importance. Nothing that has a solution is a problem and as long as there are no hopeless diseases or irreversible loss we are dealing with insignificant problems.
Regarding my job, while I was writing this letter I went in my manager office, stood right in front of her and said:  "Ciao". If I am completely honest with you, I am not very sure of what I want. But what I do know is what I don't want, and in the end, it's just a job, and I just want to be happy. I don't want to spend the rest of my life caged in my comfort zone becoming smaller and smaller.
And well, that is the summary of the story. On January the first I am leaving the flat and I don't have a clue where to go. Where shall I go, Julieta? Should like look for a job far and wide around the country with my dog with me? Shall I leave Spain?
About love, it is better not to say anything because I am on affective strike. However, to be honest, I can't lie to you, I am still hopeful of finding love. Some time in my life I hope I will come across not someone who is worth the pain but someone who is real worth, someone who has a cup of wine with me every day, who mouths the chorus while I mouth the lyrics with the mop. And who knows? I may take him to meet you there, under your balcony in Verona. After this little while that we have shared, I feel you are really close to me, my friend Juliet. I am sending you a huge hug from Córdoba, those that are tight and include a sigh, and those that make you feel beautiful things.
Always yours, Monica
________________________________
Dear Juliet,
do you remember when I came to you with my broken heart and told you that love does not exist? Oh Juliet, I was so disappointed. I loved and I was so young and innocent! I am sorry now that I told so bad things, but my I heart hurt too much after 11 years I thought I had thrown away in the wind, like leaves in autumn that fade in the cold winter…
I spent months in tears and sadness, then I decided that time had arrive to think about myself and make an old dream come true: to get to know Italy! After this trip, I thought, I would have decided which path I would have taken in my life. I spent the following days taking note of all things and places I wanted to visit,: to walk throw the ancient streets, eat a real pizza, know the famous icecream, ryde a bike, visit the museums in Rome and Florence and… music, a lot of music. To go and see where Vivaldi lived was one of my dreams. Planning my journey I discovered that an important orchestra would have played the famous Four Seasons in the place where Vivaldi lived most of his life. My heart was full of joy and expectations.
I left. I lived fully every day of that journey and everyday I prayed God  that something special could happen. I tried to take note of every little detail. Everything charmed me and everything was an answer to my prayer.
You know, Juliet, I did not even want to come to Verona. The town of love? Me? Better not: after waht I had experienced, love had no sense anymore to me, my heart was destroyed by disappointments, a lot of sad memories and the fear towards a future full of uncertainities. But alas (or luckily) the Opera festival  was in Verona and of course it was an obligatory stage for a person in love with music like me. And so, when I set foot in your town… I felt a shiver, an unexplainable sensation. I remember I said loud: " I want to live here""
I forgot to be in the town of love but I felt so good that I had forgotten all my problems I had left at the other side of the world. When I had to say goodbye to Verona, like any good tourist I went and visited your house. There I had a bad mood because all those red hearts had no meaning to me. But after all I had come from Brazil and I had to respect the ritual and so although annoyed I left my message for you.
I then went forward to Venice, but I had the feeling I was leaving something. As if a link was breaking, a feeling of emptiness. But I had to go. The final step of my journey was waiting for me: Vivaldi, his music, his violin, the concert. I did not imagine yet that from that day on my life would have changed at all.
Juliet, in the second movement of the "Winter" of Vivaldi, our eyes and maybe our hearts crossed fo the first time. That music touched deeply my soul and made me wander aimlessly for the rest of the night. The unknown melody the orchestra played as a "bis" at the end of the concert made me think a lot. My dream was almost finished. The day after I would have to worry about the trip home. I thought I would have faced the looks and the judgment of many people there, that I would have had the sole friendship of my dog in an empty and lonely life. But before leaving I wanted to know the name of the music that had accompanied my thoughts that night. So, I decided to contact the master of violin who had played that evening as soloist, just to bring an important memory with me.
It was not difficult to find him, after all we live in a globalized world, sourrended by technology which often gives us an hand. He was surprised but he was very kind and answered my questions. We texted just a little and invited me to the following concert that day . But I was late and shy.
It was my last time in Italy. I had to leave, to go back to reality, without seeing him again. But while I was travelling I received his message: "Good bye. I will never forget your eyes full of enthusiasm I crossed even just for a while in Venice". In that moment I understood that we had discovered an unsual affinity and I began to dream, I also felt silly as I was thinking of someone who was living 10.000 km away from me. I was not sure we could keep in touch. On the contrary when I was at home the first message on my phone was from him! I was not alone anymore! I could hardly remember his face but his way of playing was in my mind.
Juliet, in our long distance conversations we discovered a lot of common interests beside our love to music. What a wonder when I found out that he lived in Verona. My dream was further more surreal. I found out that he, like me, has deep wounds in the soul, the ones that make you wear a mask to survive. It was as if he asked my help, as if someway our chats relieved our pains.. It became obvious that we needed each other… Together we were complete though so far away one from another. In this way we spent one year of our life: hard times for two passionate hearts among tears and farewell kisses at the airport. But they were also precious moments for the decisions which would have changed our lives.
I could not resist: it is difficult not to be able to hug the one we love… Why had we to suffer in front of a computer monitor? I left everything, my life, my projects, my dear relatives and my job that was my only satisfaction. I left everything and flyed litterally in the arms of the one who changes in music even my tears.
Our story does not end here: every sonata is a dream that comes true, because we are part of this dream which is like a fairy tale. About you, my dear, I had  to change my mind… It is a duty now for me to transmit love to others, the kind of love I swore did not exist for myself. I must shout towards the four corners of the world: love exists and you can find it where you least expect it.
With love, Gisele
_________________
Dear Juliet of Verona,
I am writing this short letter as I want to tell you about a : whose I heart I will never have.
An angel of the night: she was so different from the kind of woman I had met before. She asked a lot but she could give everything in exchange. Her tenderness was full of sweetness and this made even more linked to her. The more I tried to fight against this terrible attraction the more I desired her. And even more melting was then my retreat.  But this was not enough, I became more and more greedy.
When she entered a room my eyes were upon her at once. She was magnetic, without notice nor awareness. She renounced to any make up, she was a natural beauty. She hang over with her white skin under dark clothes. Her eyes were full of charm, velvet and dark eyes, under curved eyebrows. Also her lips were sweetly curved, red like blood. Lips that let my glance free to lay on her white and splendid teeth, every time she madly laughed. She did not make it on purpose, she was simply there with a presence that hurt, in the heart and body.
Even her way of walking was a temptation, gently heavy upon each step, provocative but with a bit of innocence. Like a panther who gets slowly close to her prey. And her voice, so gently erotic though determined.
She was not the kind of woman I was used to. Soft, feminine, but also hard and demanding. Affectionate like a cat. But you could not turn your back on her. It was a quiet lake but embers boiled on the bottom. Ungraspable in his doing and in his being. Jeckyll and Hyde for women. A prison of thought.
Christoph