The exclusive interview to Glenn Dixon the author of
"Juliet's Answer – One Man's Search for Love and the Elusive Cure for Heartbreak"
the new book about Love, Life and The Juliet Club.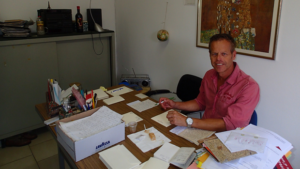 Hi Glenn, lets start with a simple question: how did you find out about the Juliet Club?
I was a high school English teacher in Canada for almost twenty years and every year I taught Romeo and Juliet. In the back of our school textbook, there were some essays on the play and one of them was about the Club di Giulietta. The amazing thing is that this essay came from a magazine – Smithsonian magazine – and it was from 1979, a long time ago. So, I always knew about the letters to Juliet from this.
That's incredible, so how did you feel the first time you answered a letter addressed to Juliet Capulet?
On my very first trip to Verona, I volunteered to answer the letters and I have been a couple more times since then. I don't remember the very first letter but I knew that I was doing something important. I remember that Giovanna (Tamassia) told me that it is a noble thing they are doing in answering the letters. A lot of the letters at first were from teenage girls looking for their Romeos – but you still have to take them seriously. You still must understand that their hearts are really hurting and it is up to the secretaries to offer some comfort and some hope.
 Of course, answering a letter is a big responsability, even more when someone opens his/her heart to you. But let's talk about the book, "Juliet's Answer", it is not only about the Juliet Secretaries, is that correct?
When I first started writing the book, it was going to only be about the secretaries but then I actually wrote my own letter to Juliet and I wanted to tell the story of that. In fact, it didn't go well. Between my first and second trips to Verona I had a real disaster in my love life and that's all in the book now. It was a catastrophe. The good thing is that, on my second trip, I fell in love with someone new, someone who became an important part of the book – but I don't want to give away any spoilers. Maybe I can say that somehow Juliet – and answering the letters – helped me with my own love life.
Well, now we need to know how the story goes, so when and where we can find the book?
The book has just come out in Canada. It will be published in the United States in February in time for Valentines day and later it will be in Australia and New Zealand. There will be a Spanish translation (from a publisher in Madrid) and it will also be translated into Chinese. I think in Europe right at the moment you can order it online (just look it up – Juliet's Answer – it will be easy to find) and it will be shipped to you. I am still hoping that one day there will be an Italian translation of it. That, for me, would be truly remarkable, the perfect ending to my story.
Book Trailer: